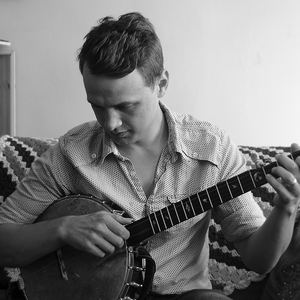 Cameron DeWhitt
Host of Get Up in the Cool
Cameron DeWhitt is a clawhammer banjoist and Old Time musician living in Philadelphia. He hosts the weekly podcast Get Up in the Cool, which features conversations and musical collaborations with some of Old Time's heaviest hitters, like Ken Perlman, Adam Hurt, Spencer & Rains, and Jake Blount. As an interviewer, Cameron balances an effusive curiosity for the potential of traditional music with a dogged respect for its origins. Serving as audience surrogate, Cameron asks illuminating questions to Old Time's best and brightest while telling the larger story of the tradition's modern era. And with over 80 episodes released and no signs of slowing, Get Up in the Cool is quickly becoming one of the largest available archives of new Old Time recordings.
Cameron is the innovator behind "pitchfork-style" banjo, a three-finger clawhammer technique that allows the player unprecedented access to melody, harmony, and rhythms typically roped off from clawhammer players. With pitchfork-style, he improvises over tunes in a way that most old time banjoists would only attempt with meticulous arrangement. In Cameron's hands, traditional melodies are transformed from repeated statements into philosophical discussions, accelerating the folk process in a single performance.
Cameron DeWhitt has hosted 210 Episodes.
July 13th, 2016 | 51 mins 8 secs

banjo, cameron dewhitt, clawhammer banjo, fiddle, get up in the cool, harry bolick, mississippi fiddle tunes and songs from the 1930s, old time, old time music

Today we have a very special friend on the show, Harry Bolick. This year Harry released his book of transcriptions called Mississippi Fiddle Tunes and Songs from the 1930s, and we're going to play a few tunes from it.

July 5th, 2016 | 1 hr 3 mins

banjo, brad kolodner, cameron dewhitt, clawhammer, clawhammer banjo, fiddle, old time, old time music, old-time

Part One in the "Baltimore Boys" series, wherein I jam with the friends (and tenants) of Brad Kolodner. We discuss growing up in the household of hammered-dulcimer titan, Ken Kolodner, and play some of their best modern takes on traditional tunes.